Etta James, whose assertive, earthy voice lit up such hits as "The Wallflower," "Something's Got a Hold on Me" and the wedding favorite "At Last," has died, according to her longtime friend and manager, Lupe De Leon. She was 73.
She died from complications from leukemia with her husband, Artis Mills, and her sons by her side, De Leon said.
She was diagnosed with leukemia in 2010, and also suffered from dementia and hepatitis C. James died at a hospital in Riverside, California. She would have turned 74 Wednesday.
" This is a tremendous loss for the family, her friends and fans around the world," De Leon said. "She was a true original who could sing it all -- her music defied category.
"I worked with Etta for over 30 years. She was my friend and I will miss her always."
Was "At Last" your song for your wedding's first dance?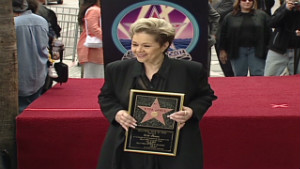 2003: Etta James reflects on her career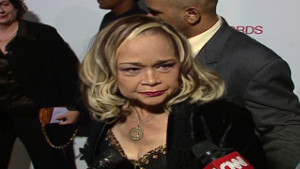 2008: Etta James at 'Cadillac Records'
The powerhouse singer, known as "Miss Peaches," lived an eventful life. She first hit the charts as a teenager, taking "The Wallflower (Roll With Me, Henry)" -- an "answer record" to Hank Ballard's "Work With Me, Annie" -- to No. 1 on the R&B charts in 1955. She joined Chess Records in 1960 and had a string of R&B and pop hits, many with lush string arrangements. After a mid-decade fade, she re-emerged in 1967 with a more hard-edged, soulful sound.
Throughout her career, James overcame a heroin addiction, opened for the Rolling Stones, won six Grammys and was voted into the Rock and Roll Hall of Fame. Despite her ups and downs -- including a number of health problems -- she maintained an optimistic attitude.
"Most of the songs I sing, they have that blue feeling to it. They have that sorry feeling. And I don't know what I'm sorry about," she told CNN's Denise Quan in 2002. "I don't!"
Through it all, she was a spitfire beloved by contemporaries and young up-and-comers.
"Etta James is unmanageable, and I'm the closest thing she's ever had to a manager," Lupe DeLeon, her manager of 30-plus years, told CNN in admiration.
British songstress Adele named James as one of her favorite singers, along with Aretha Franklin.
"If you were to look up the word singer in the dictionary, you'd see their names," Adele said in an interview.
Etta James was born Jamesetta Hawkins in Los Angeles to a teen mother and unknown father. (She suspected her father was the pool player Minnesota Fats.)
Her birth mother initially took little responsibility and James was raised by a series of people, notably a pair of boardinghouse owners. But she was recognized from a young age for her booming voice, showcased in a South Central Los Angeles church.
In 1950, her mother took her to San Francisco, where James formed a group called the Peaches. Singer Johnny Otis, best known for "Willie and the Hand Jive," discovered her and had her sing a song he wrote using Ballard's tune as a model. "The Wallflower," with responses from "Louie Louie" songwriter Richard Berry, made James an R&B star.
Her signing to Chess introduced her to a broader audience, as the record label's co-owner, Leonard Chess, believed she should do pop hits. Among her recordings were "Stormy Weather," the Lena Horne classic originally from 1933; "A Sunday Kind of Love," which dates from 1946; and most notably, "At Last," a 1941 number that was originally a hit for Glenn Miller.
James' version of "At Last" starts out with swooning strings and the singer enters with confident gusto, dazzlingly maintaining a mood of joy and romance. Though the song failed to make the Top 40 upon its 1961 release -- though it did hit the R&B Top 10 -- its emotional punch has long made it a favorite at weddings.
James' career suffered in the mid-'60s when the British Invasion took over the pop charts and as she fought some personal demons. But she got a boost when she started recording at Rick Hall's FAME Studios in Muscle Shoals, Alabama. Her hits included the brassy "Tell Mama" and the raw "I'd Rather Go Blind," the latter later notably covered by Rod Stewart.
She entered rehab in the 1970s for her drug problem but re-established herself with live performances and an album produced by noted R&B mastermind Jerry Wexler. After another stint in rehab -- this time at the Betty Ford Clinic -- she made a comeback album, "Seven Year Itch," in 1988.
James mastered a range of styles -- from R&B and soul to jazz and blues -- but she was always one step behind the popular genre of the day, said Michael Coyle, a Colgate University professor who has written about jazz and R&B and reviews records for Cadence Magazine.
"She never really got her moment in the sun," Coyle said.
But James soldiered on, and by the end of her life she had made so much meaningful music that she was considered a living legend. "By the mid-'90s, she's survived so long that people start to look up to her," Coyle said.
James was portrayed by pop star Beyonce in the 2008 film "Cadillac Records," about Chess. After Beyonce sang "At Last" at one of President Barack Obama's 2009 inaugural balls, James lashed out: "I can't stand Beyonce. She had no business up there singing my song that I've been singing forever." She later told the New York Daily News she was joking.
Earlier this year, news reports revealed that the singer's estate was being contested in a legal struggle between her husband, Artis Mills, and son Donto James. (Donto and her other son, Sametto, both played in her band.)
Over the years, James had her share of health problems. In the late 1990s she reportedly weighed more than 400 pounds and required a scooter to get around. In 2003 she had gastric bypass surgery and dropped more than half the weight, according to People magazine.
However, until her latest issues, James maintained a steady touring schedule and appeared full of energy even when sitting down -- as she sometimes did on stage, due to bad knees and her weight battles.
Even while sitting down, James gave it her all on stage, singing as though possessed, caressing every note like a long-lost love. If that seemed a little much to critics, well, the legendary singer had a show to put on, she told Quan.
"They said that Etta James is still vulgar," she said in the 2002 interview. "I said, 'Oh, how dare 'em say I'm still real vulgar! I'm vulgar because I dance in the chair?' What would they want me to do? Want me to just be still or something like that?
"I gotta do something."
Etta James
(born
Jamesetta Hawkins
; January 25, 1938 – January 20, 2012) was an American singer whose style spanned a variety of music genres including
blues
,
rhythm and blues
,
rock and roll
,
soul
,
gospel
and
jazz
. Starting her career in the mid 1950s, she gained fame with hits such as "
Dance With Me, Henry
", "
At Last
", "
Tell Mama
", and "
I'd Rather Go Blind
" for which she claimed she wrote the lyrics.
She faced a number of personal problems including
drug addiction
before making a musical resurgence in the late 1980s with the album,
The Seven Year Itch
.
She is regarded as having bridged the gap between rhythm and blues and rock and roll, and is the winner of six Grammys and 17
Blues Music Awards
. She was inducted into the
Rock & Roll Hall of Fame
in 1993, the
Blues Hall of Fame
in 2001, and the
Grammy Hall of Fame
in both 1999 and 2008.
Rolling Stone
ranked James number 22 on their list of the 100 Greatest Singers of All Time and number 62 on the list of the 100 Greatest Artists.
Early life and early career: 1938–1959
Jamesetta Hawkins was born on January 25, 1938, in
Los Angeles
to Dorothy Hawkins, who was only 14 at the time. Her father has never been identified, but was rumored possibly to be white (Caucasian).
James speculated that her father was the pool player,
Rudolf "Minnesota Fats" Wanderone
, and met him briefly in 1987, Due to her mother being often absent carrying on relationships with various men, James lived with a series of caregivers, most notably "Sarge" and "Mama" Lu. James called her mother "the Mystery Lady".
James received her first professional vocal training at the age of five from James Earle Hines, musical director of the Echoes of Eden choir, at the St. Paul Baptist Church in Los Angeles. She became a popular singing attraction at the church, and Sarge tried to pressure the church into paying him money for her singing, but they refused. During drunken poker games at home, he would wake James up in the early hours of the morning and force her through beatings to sing for his friends. As she was a bed-wetter, and often soaked with her own urine on these occasions, the trauma of being forced to sing meant she had a life-long reluctance to sing on demand.
In 1950 Mama Lu died, and James' real mother took her to the Fillmore district in
San Francisco
.
Within a couple of years, James began listening to
doo-wop
and was inspired to form a
girl group
, called the Creolettes (due to the members' light skinned complexions). The 14-year-old girls met musician
Johnny Otis
. Stories on how they met vary including Otis' version in which James had come to his hotel after one of his performances in the city and persuaded him to audition her. Another story came that Otis spotted the group performing at a Los Angeles nightclub and sought them to record his "
answer song
" to
Hank Ballard
's "
Work With Me, Annie
". Nonetheless, Otis took the group under his wing, helping them sign to
Modern Records
and changing their name from the Creolettes to the Peaches and gave the singer her
stage name
reversing Jamesetta into
Etta James
. James recorded the version, which she was allowed to co-author, in 1954, and the song was released in early 1955 as "
Dance with Me, Henry
". Originally the name of the song was "Roll With Me, Henry" but was changed to avoid
censorship
due to the subtle title. In February of that year, the song reached number one on the
Hot Rhythm & Blues Tracks
chart.
Its success gave the group an opening spot on
Little Richard
's national tour.
While on tour with Richard, pop singer
Georgia Gibbs
recorded her version of James' song, which was released under the title "The Wallflower", and became a
crossover
hit, reaching number one on the
Billboard Hot 100
, which angered James. After leaving the Peaches, James had another R&B hit with "Good Rockin' Daddy", but struggled with follow-ups. When her contract with Modern came up in 1960, she decided to sign with
Leonard Chess
' namesake label, Chess Records, and shortly afterwards got involved in a relationship with singer
Harvey Fuqua
, founder of the doo-wop group,
The Moonglows
.
Bobby Murray aka "Taters" toured with Etta James for 20 years. He wrote that James had her first hit single when she was 15 years of age and went steady with
B.B. King
when she was 16. Etta James believed the hit single "Sweet Sixteen" by B.B. King was about her.
Chess years: 1960–1978
James was put on the Chess subsidiary label
Argo
(and later recorded with another subsidiary,
Cadet
) and had her first hit singles under duets with Fuqua including "If I Can't Have You" and "
Spoonful
". Her first solo hit was the doo-wop styled rhythm and blues number, "
All I Could Do Was Cry
", becoming a number two R&B hit.
Leonard Chess had envisioned James as a classic ballad stylist who had potential to cross over to the pop charts and soon surrounded the singer with violins and other string instruments. The first string-laden ballad James recorded was "My Dearest Darling", which peaked in the top five of the R&B chart. James was notable singing background vocals on label mate
Chuck Berry
's "
Back in the USA
".
Her debut album,
At Last!
, was released in late 1960 and was noted for its varied choice in music from
jazz standards
to
blues numbers
to
doo-wop
and
R&B
.
The album also included James' future classic, "
I Just Want to Make Love to You
" and "
A Sunday Kind of Love
". In early 1961, James released what has become her signature song, "
At Last
", which reached number two on the R&B chart and number 47 on the
Billboard Hot 100
. Though the song wasn't as successful as expected, it has become the most remembered version of the song.
James followed that up with "Trust in Me", which also included string instruments. Later that same year, James released a second studio album,
The Second Time Around
. The album took the same direction as her previous album, covering many jazz and pop standards, and using strings on many of the songs spawning two hit singles, "The Fool That I Am" and "Don't Cry Baby".
James started adding gospel elements in her music the following year releasing "Something's Got a Hold on Me", which peaked at number four on the R&B chart and was also a top 40 pop hit.
That success was quickly followed by "Stop the Wedding", which reached number six on the R&B charts and also had gospel elements. In 1963, she had another major hit with "Pushover" and released the live album,
Etta James Rocks the House
, which was recorded at the New Era Club in
Nashville, Tennessee
.
After a couple years scoring minor hits, James' career started to suffer after 1965. After a period of isolation, James returned to recording in 1967 and reemerged with more ballsy R&B numbers thanks to her recording at the legendary Fame Studios in
Muscle Shoals, Alabama
releasing her comeback hit "Tell Mama", which was co-written by
Clarence Carter
and reached number ten R&B and number twenty three pop. An album of the same name was also released that year and included her take of
Otis Redding
's "
Security
".
The
B-side
of "Tell Mama" was "
I'd Rather Go Blind
", which became a blues classic in its own right and was recorded by many other artists. She wrote in her autobiography
Rage To Survive
that she heard the song outlined by her friend Ellington "Fugi" Jordan when she visited him in prison. According to her account, she wrote the rest of the song with Jordan, but for tax reasons gave her songwriting credit to her partner at the time, Billy Foster.
Following this success, James became an on-demand concert performer though she never again reached the heyday of her early-to-mid 1960s success. She continued to chart in the R&B Top 40 in the early 1970s with singles such as "Losers Weepers" (1970) and "I Found a Love" (1972). Though James continued to record for Chess, she was devastated by the death of Chess founder Leonard Chess in 1969. James ventured into
rock
and
funk
with the release of her self-titled album in 1973 with production from famed rock producer Gabriel Mekler, who had worked with
Steppenwolf
and
Janis Joplin
, who had admired James and had covered "Tell Mama" in concert. The album, known for its mixtures of musical styles, was nominated for a
Grammy Award
.
The album didn't produce any major hits, neither did the follow-up,
Out On the Street Again
, in 1974, though like
Etta James
before it, the album was also critically acclaimed. James continued to record for Chess releasing two more albums in 1978,
Etta Is Betta Than Evah
and
Deep in the Night
, which saw the singer incorporating more rock-based music in her repertoire.
That same year, James was the opening act for
The Rolling Stones
and also performed at the Montreal Jazz Festival. Following this brief success, however, she left Chess Records and didn't record for another ten years as she struggled with drug addiction and alcoholism for the better part of a decade.
Later career: 1988–2012
Though she continued to perform, little was heard of Etta James until 1987 when she was seen performing "
Rock & Roll Music
" with
Chuck Berry
on his "
Hail! Hail! Rock 'n' Roll
" documentary. In 1989, James signed with
Island Records
and released the album,
The Seven Year Itch
, which was noted for bringing back the older raw sound of previous records.
The album was produced by
Jerry Wexler
, who had worked on
Deep in the Night
.
She released a second album in 1989 titled
Stickin' to My Guns
. Both albums were recorded at FAME Studios.
James participated in rap singer Def Jef for the song "Droppin' Rhymes on Drums", which mixed James' jazz vocals with hip-hop. In 1992, James released
The Right Time
on Elektra Records and the following year, James was inducted into the
Rock and Roll Hall of Fame
.
James signed with
Private Music Records
in 1993 and recorded the
Billie Holiday
tribute album,
Mystery Lady: Songs of Billie Holiday
.
The album later set a trend for James' music to incorporate more jazz elements.
The album won James her first Grammy Awards for
best jazz vocal performance
in 1994. In 1995, she released the David Ritz-co authored autobiography,
A Rage to Survive
, and recorded the album,
Time After Time
. Three years later she issued the Christmas album,
Etta James Christmas
, in 1998.
By the mid-1990s, James' earlier classic music was included in commercials including, most notably, "
I Just Wanna Make Love to You
". Due to exposure of the song in a UK commercial, the song reached the top ten of the UK charts in 1996.
Continuing to record for Private Music, she released the blues album,
Matriarch of the Blues
, in 2000, which had James returning to her R&B roots with
Rolling Stone
hailing it as a "solid return to roots", further stating that the album found the singer "reclaiming her throne - and defying anyone to knock her off it."
In 2001, she was inducted into the Blues Hall of Fame and the
Rockabilly Hall of Fame
, the latter for her contributions to the developments of both rock and roll music and
rockabilly
. In 2003, she received a
Grammy Lifetime Achievement Award
. Her 2004 release,
Blue Gardenia
, returned James to a jazz music style. James' final album for Private Music,
Let's Roll
, was released in 2005 and won James a Grammy for
best contemporary blues album
.
In 2004,
Rolling Stone Magazine
ranked her #62 on their list of the
100 Greatest Artists of All Time
.
James has performed at the top world jazz festivals in the world, such as the
Montreux Jazz Festival
in 1977, 1989, 1990 and 1993,
performed nine times at the legendary
Monterey Jazz Festival
, and the
San Francisco Jazz Festival
five times. She also performs often at free city outdoor summer arts festivals throughout the US.
In 2008, James was portrayed by
Beyoncé Knowles
in the film,
Cadillac Records
, loosely based on the rise and fall of James' label of 18 years, Chess Records, and how label founder and producer Leonard Chess helped the career of James and other label mates, though it was noted that James was successful prior to her signing with Chess Records.
In the film, Etta James' character is in constant search to seek the recognition as well as love from an infamous pool shark named
Minnesota Fats
, whom she believed to be her white biological father.
The film also portrayed "At Last" as a huge pop hit, but the single only charted briefly when it was initially released and James had bigger hits. It also indicated that James and Chess, who were 21 years apart in age, were lovers but that was also inaccurate. Though James and Knowles were later seen at a red carpet event following the film's release embracing each other, James expressed her displeasure with Knowles at a
Seattle
concert in January 2009, a few days after Knowles sang her song, "At Last", at the first
inaugural ball
for Barack Obama. James claimed she "can't stand Beyoncé" and that Knowles would
"get her ass whipped"
.
James later said that her remarks about Knowles were a joke but admitted she was hurt that she was not invited to sing her song and that she could've performed it better.
In April 2009, the 71-year-old James made her final television appearance performing "At Last" during an appearance on
Dancing with the Stars
. In May 2009, James was awarded as the Soul/Blues Female Artist of the Year by the Blues Foundation, the ninth time James had won the award. James carried on touring but by 2010 had to cancel concert dates to her gradually failing health after it was revealed that she was suffering from
dementia
and
leukemia
. In November 2011, James released her final album,
The Dreamer
, which was critically acclaimed upon its release. James announced via her manager's statement that this would be her final album. On 8th January 2012 her continuing relevance was affirmed when
Avicii
reached number 1 on Beatport with the song "Le7els" that samples her song "Something's Got a Hold on Me".
Style and influence
James's musical style changed during the course of her career. When beginning her recording career in the mid-50s, James was marketed as an R&B and
doo wop
singer.
After signing with Chess Records in 1960, James broke through as a
traditional pop
-styled singer, covering jazz and pop music standards on her debut album,
At Last!
James's voice has deepened and coarsened in the past ten years, moving her musical style in these later years into the genres of soul and jazz.
Etta James had once been considered one of the most overlooked blues and R&B musicians in American music history. It wasn't until the early 1990s when James began receiving major industry awards from the Grammys and the
Blues Foundation
that she began to receive wide recognition. In 2011 James was voted one the
Best Singers On Earth
by viewers to Btoe the multimedia website founded by
Colin Larkin
creator of the
Encyclopedia of Popular Music
. In recent years, she has been seen as bridging the gap between rhythm and blues and rock and roll. James has influenced a wide variety of American musicians including
Diana Ross
,
Christina Aguilera
,
Janis Joplin
,
Bonnie Raitt
,
Shemekia Copeland
,
and
Hayley Williams
of
Paramore
as well as British artists
The Rolling Stones
,
Rod Stewart
,
Elkie Brooks
,
Amy Winehouse
,
Paloma Faith
,
Joss Stone
and
Adele
.
Personal life
James encountered a string of legal problems during the early 1970s due to her heroin addiction. She was continuously in and out of rehabilitation centers, including the Tarzana Rehabilitation Center, in Los Angeles, California. Her husband Artis Mills, whom she married in 1969, accepted responsibility when they were both arrested for heroin possession and served a 10-year prison sentence.
He was released from prison in 1982 and was still married to James at her death.
She was also arrested around the same time for her drug addiction, accused of cashing bad checks, forgery and possession of heroin.
In 1974, James was sentenced to drug treatment instead of serving time in prison. She was in the Tarzana Psychiatric Hospital for 17 months, at age 36, and went through a great struggle at the start of treatment. She later stated in her autobiography that the time she spent in the hospital changed her life. However, after leaving treatment, her substance abuse continued into the 1980s, after she developed a relationship with a man who was also using drugs. In 1988, at the age of 50, she entered the
Betty Ford Center
, in
Palm Springs, California
, for treatment.
In 2010, she received treatment for a dependency on painkillers.
James had two sons, Donto and Sametto. Both started performing with their mother in 2003 – Donto on drums and Sametto on bass guitar.
Illness and death
James was hospitalized in January 2010 to treat an infection caused by
MRSA
. During her hospitalization, her son Donto revealed that James had been diagnosed with
Alzheimer's disease
in 2008, and attributed her previous comments about
Beyoncé Knowles
to "drug induced
dementia
".
She was diagnosed with
leukemia
in early 2011. The illness became terminal and she died on January 20, 2012, just five days before her 74th birthday, at Riverside Community Hospital in
Riverside, California